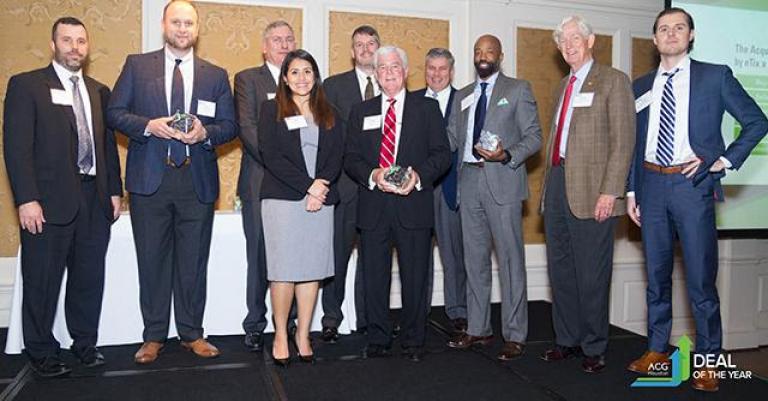 "We are excited to finally bring to Houston a forum where we can recognize and celebrate the top business leaders in Houston. I was very impressed by the quality of the activity in the Houston marketplace evidenced in our more than 40 nominations. The finalists identified by our panel reflect the best of Houston's very active and innovative deal community"
Event Chair, Steve Tredennick,
Partner at Paul Hastings
On February 13, 2018 at River Oaks Country Club, ACG Houston (Association for Corporate Growth) kicked off the inaugural Deal of the Year event celebrating Houston's booming middle-market deal community, honoring the deals and dealmakers who drive middle market growth and their success in generating job growth, capital formation and the advancement of meaningful business relationships in the Houston community.
2017 Judges
The 2017 Deal of the Year winners were selected by an independent panel of esteemed judges and top business leaders including Carin Barth, Co-Founder and President of LB Capital Inc., Eric Bruce, Vice President and CFO of EagleRidge Energy, Mitch Cox, Partner at Turnbridge, Bud Giesinger, Director at Newfield Exploration Company, Mitch Cox, Founder of Pine Brook Partners, A. Kelly Williams, Managing Director at Aztec USA and Nadine C. Smith, Founder and Managing Partner, SRQ Capital.
Click to see a complete list of 2017 Judges and their bios.
Criteria for the nominations included a closing date between October 1, 2016 and September 30, 2017 with transactions that have a tie to the Greater Houston area (e.g. where the buyer, seller or assets were located). Nomination criteria also included details such as transaction value range, industry focus and type of transaction as well as anecdotal commentary on what makes the deal unique. The judges evaluated deals based on the parties' submissions as well as the overall story, economic and strategic impact to the Houston community, stakeholder value and professional expertise required in executing the transaction.
2017 Award Categories and Winners
| Category | Winner |
| --- | --- |
| Midstream Deal of the Year | American Midstream Partners Merger with JP Energy Partners |
| Oil and Gas Deal of the Year (<$1B) | WildHorse Acquisition of Eagle Ford Properties from Anadarko |
| Oil and Gas Deal of the Year (>$1B) | EOG Resources and Yates Petroleum Merger |
| Oilfield Services Deal of the Year | Madison Group acquires Reservoir Group |
| Downstream, Power & Trading Deal of the Year | Take-Private Transaction by Zenith Energy U.S. of a Public MLP |
| Business and Industrial Services Deal of the Year | Acquisition of Maintenance Supply Headquarters by Lowe's |
| Consumer Products and Healthcare Deal of the Year | Acquisition of Majority Ownership in Elite Surgical Affiliates' Portfolio of 3 ASCs and 1 Surgical Hospital |
| Software, Technology and IT Services Deal of the Year | The Acquisition of Houston based ExtremeTix by eTix a Parthenon Capital Partners |
For more details and a full-listing of all the deal participants, click here.
2017 Award Ceremony Highlights
Click to see a full gallery of 2017 ACG Houston Deals of Year Awards.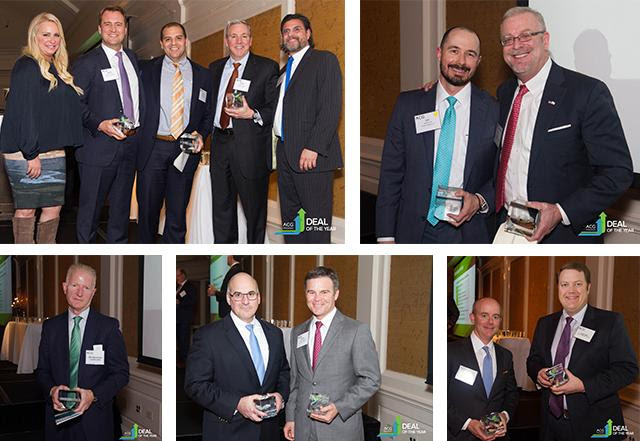 About ACG
Founded in 1954, ACG is a global organization with 59 chapters and over 14,500 members. Doing business is at the heart of the ACG membership experience. Chapters in the U.S., Canada, Europe and Asia bring dealmakers together to help them achieve their business and professional goals. To learn more or become a member visit
www.acg.org/houston.