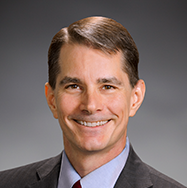 Ken Wiles, PhD, CFA
Executive Director, Hick, Muse Tate & Furst Center for Private Equity Finance
Ken is the Executive Director of the Hick, Muse Tate & Furst Center for Private Equity Finance, and a Clinical Associate Professor of Finance at the McCombs School of Business at The University of Texas at Austin. He has been published in leading academic journals, including the Journal of Finance Economics, Financial Management, The Journal of Empirical Finance, Financial Analyst Journal, and The Journal of Applied Corporate Finance, and in The Wall Street Journal.
Ken has also been the COO or CFO of several companies, two of which were taken public by JP Morgan and Bear Sterns respectively, and one was sold to Oracle Corporation. Ken founded and led a restructuring firm, was the managing partner of a money management firm, has worked at three investment banking firms, and was a finance professor at The University of North Carolina at Chapel Hill for 17 years. Ken is a certified valuation and interest rate expert in federal bankruptcy court. He was the Chief Restructuring Officer of Turnberry/MGM Grand Towers, LLC, which concluded a multi-year bankruptcy process in 2017. He is also on the Investment Committee at LBJ Wealth Advisors and on the Board of Lawclerk.legal.
Ken was appointed by Governor Brian Sandoval and, from 2011 until 2018, was the Chairman of the Nevada Economic Forum, which estimates the level of state revenues used to establish the Nevada state budget. He is also on Investment Committee for the LBJ Family Wealth Advisors.
He holds a PhD in Finance from The University of Texas at Austin and is a Chartered Financial Analyst (CFA).